NTRA Chairman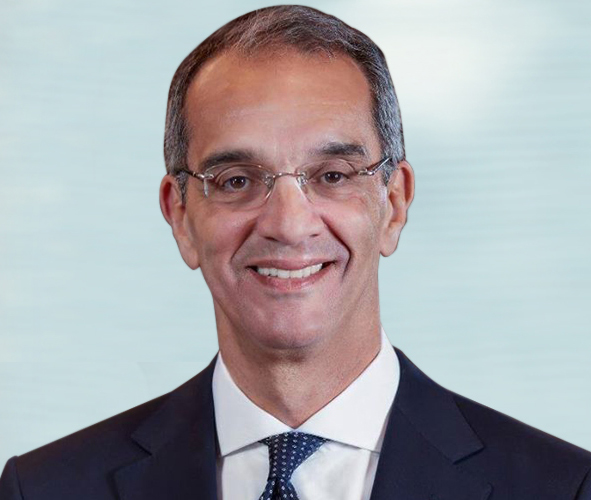 With over 30 years of solid experience in the IT and telecom industry, implementing working strategies for the provision of innovative digital technologies, Talaat was tasked with a chief mission to lead Egypt's Digital Transformation Initiative, 2020. 
Talaat is confident of what immersive technologies can offer to serve as a strong arm to empower vital sectors of the economy and realize the Sustainable Development Strategy: Egypt Vision 2030. 
Talaat's endeavor aims to oversee the implementation of several strategic projects, that include developing and securing the country's IT & telecom infrastructure, creating a generation of professionals specialized in advanced digital technologies, spurring innovation and improving government performance and quality of services offered to the citizen-as a main objective of the government's digital transformation mega program.
A strong believer in the power of youth as active participants in the socio-economic development of the nation, Talaat led a number of digitally-based empowerment initiatives to engage professionals to support such belief. Throughout his career, Talaat succeeded in materializing exceptional investments, merges and acquisitions to attract and nurture Foreign Direct Investment (FDI) to the country and create the value-add.
Under his leadership, before joining the Government of Egypt, Talaat spearheaded IBM Egypt's expansion plans, ensuring the creation of unique job opportunities and the establishment of centers of excellence to export digital services. Throughout his career at IBM Egypt, he held various leadership roles till he headed the firm.
Talaat was an Adjunct Professor at Cairo University with teaching experience in market and sales strategies and tactics, organizational behavior and strategic management. He was an honorary member at the ICT Board at Cairo University, member of the ICT Board of the Academy of Scientific Research and Technology, and the Chairman of ICT Committee of the American Chamber of Commerce.
Talaat earned his Doctor of Business Administration from the University of Paris – Paris School of Business and obtained a Master of Science in Computer Science from Illinois Institute of Technology, and holds an MBA from Paris ESLSCA Business School, France. He is a graduate of Cairo University's Faculty of Engineering.