NTRA launches its interactive app (My NTRA) to facilitate telecom services for individuals and corporations
10 November 2021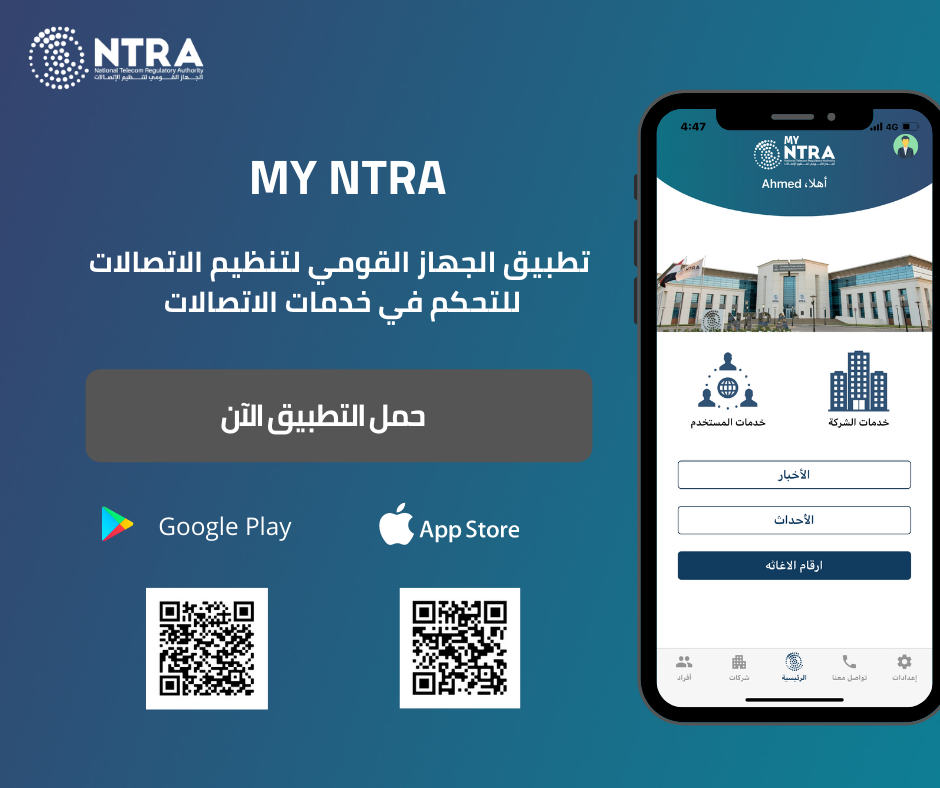 The National Telecommunication Regulatory Authority of Egypt (NTRA) has launched its interactive application (My NTRA) to facilitate the process of offering basic telecom services to users and corporations. This app provides a number of interactive services via mobile phone, without the need to contact the call center or make personal visits to operators' branches. In fact, the said app serves as a direct outcome of the complaints and needs of users monitored by NTRA in Egypt's market. It is also deemed a leading app worldwide in terms of providing a wide range of integrated services to end users. Furthermore, this step comes within the huge efforts exerted by NTRA to facilitate the process of receiving telecom services and to reinforce communication approaches with users. It also comes in line with the State's policy to uphold digital transformation.
My NTRA App. aims to save time and effort for users as well as reduce the time period required to get services, by electronically providing such services via mobile phones. It actually has a number of online interactive services designed for individuals. The first service provided is the Complaint System which allows users to escalate their complaints to NTRA, in case such complaints could not be resolved with the operator. It also enables users to inquire about and track their complaints. The second service provided is Mobile Number Portability (MNP), where users can inquire about the status of their request to shift operators while keeping the same line number, the process which currently takes place for free and within 24 hours. The third service is Internet Speed Test, which allows users to examine and measure the speed of internet services provided on mobile phones, whether such services are provided through WiFi or mobile data. In addition, the fourth service provided by NTRA on this app. is actually the Operator Quality Map. This service enables users to figure out the quality of voice and data services within an area of their choice through an interactive map, so as to be able to get the best service possible. Meanwhile, the fifth service provided is My Tariff, where users are allowed to inquire about or cancel mobile entertainment services, have a full knowledge of all packages and systems matching their buying power, or access information about their mobile consumption as clarified by operators in Egypt's market. Eventually, the sixth service is called My Lines, where users, with their National ID, could know how many mobile lines registered with their names in the networks of all mobile operators working in Egypt's market. In fact, this service would protect the privacy of subscribers and would also reduce fraudulent operations.
Moreover, NTRA provided, within the App., a full guide on telecom-user rights in Egypt's market. Sections like Important Numbers, which contains a list of important emergency hotlines as well as hotlines of government entities that users may need to contact, are also provided. In addition, the app. contains a section called Outlets, where locations of operators' outlets are actually included.
My NTRA App. also contains a separate section for corporate services, where all procedures of telecom licenses, custom clearance and NTRA's e-services could be accomplished. It is worth mentioning that NTRA's e-services encompass type approval, issuance of licenses to import telecom equipment as well as the ability to track the status of requests submitted in-advance.
To have access to all interactive services provided by such an app., users are required to submit valid data of their mobile number and National ID. My NTRA could be also downloaded from Play Store for Android users, while iOS users could download it from App Store. So as to be mentioned, the App. supports both languages; Arabic and English, according to the language settings of your phone.
At his side, Eng. Hossam El-Gamal, the Executive President of NTRA pointed out that MY NTRA has been launched in line with the State's policy to uphold digital information, adopt as well as harness advanced technologies to enhance business performance and establish a digital business system for telecom users. Eng. Hossam El-Gamal also clarified that within its role to protect the rights of user, NTRA was keen on enriching the user-experience by launching an app. to facilitate the process of service provision via mobile phone and supply users with all service-related information. Furthermore, NTRA, through such an app. aims to provide users with the necessary information to reinforce their decision on choosing the most suitable operator and to support them in the process of resolving telecom complaints, added Eng. Hossam. Based on the process to facilitate service provision, NTRA has issued a guide for the users of this new app. which provides information about how to register and receive services. This guide also includes all details that would make it much easier for customers to use services. These details are actually available on NTRA's official website.