Egypt moves up 54 positions to occupy the 41st ranking on the ITU-ICT Regulatory Tracker of 2020
27 June 2021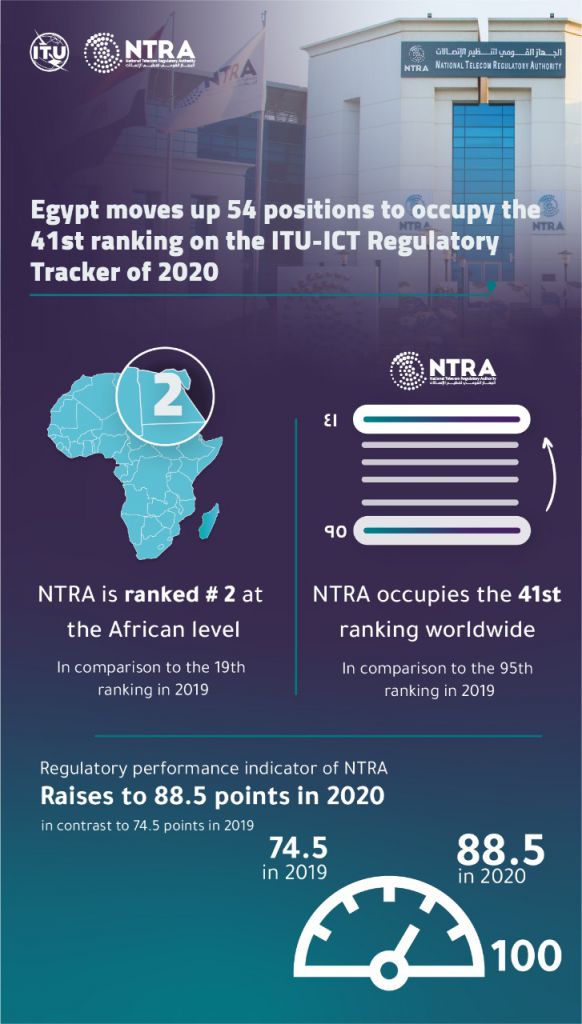 The International Telecommunication Union (ITU) issued its annual report on the Information and Communication Technology Regulatory Tracker of 2020 (ICT Regulatory Tracker), during the Global Symposium for Regulators (GSR) – 2021. The National Telecom Regulatory Authority of Egypt (NTRA) moved up 54 positions in the international rankings of the said Tracker, occupying the 41st position amongst 193 other regulators of different countries, in comparison to the 95th position back in 2019. Furthermore, NTRA came second at the level of the African continent in contrast to the 19th position in 2019; as the value of regulatory performance indicators of NTRA reached 88.5 points out of 100 points in 2020, in comparison to 74.5.
The evaluating report was based on four major axes; first, the axis of regulatory capabilities which manifests the ability of the regulator to make regulatory as well as reformatory decisions in the market and how much such decisions issued are impartial. The second axis is about the regulatory frameworks which reflect the governance level of the services provided in Telecom Market, and how much the regulatory measures are impactful on developing the market's operations. Furthermore, the third axis tackles the variety level of regulatory missions carried out by the market's regulator and the relationship involved with other government institutions. As for the fourth axis, it handles competitiveness and clarifies the ability to create an attractive competitive environment and open new investment realms.
Eng. Hossam El-Gamal, the Executive President of NTRA clarified that that such a boost in Egypt's international ranking on the ICT Regulatory Tracker reflects the efforts exerted by NTRA, as well as the initiatives and regulatory frameworks created by NTRA in 2020. In fact, these measures played a major role in boosting Egypt's international ranking. They included providing new frequency bands for telecom operators via Time Division Duplexing Technology (TDD), as the first precedence in Egypt's market to raise the quality of telecom services provided to users. The measures taken by NTRA also included providing all importing and licensing services online and fostering the freedom of choice for telecom users via Mobile Number Portability service (MNP) to be implemented within 24 hours. Launching the unified code #155* to subscribe in or unsubscribe from value added services and launching initiatives to encourage e-payment were also amongst the other procedures adopted by NTRA. It's worth noting that NTRA also created initiatives to support users of disability challengers, as well as adopt public consultations to launch new regulatory frameworks with a main purpose to capitalize upon the experience of the companies and authorities working in Egypt's market.
Similarly, Eng. Hossam El-Gamal pointed out that NTRA's advance on the ICT Regulatory Tracker will reinforce Egypt's leadership in telecommunication regulation at the international and regional levels. Consequently, more investment opportunities would be created, an attractive investing and competitive environment would be available and the process of digital transformation would be also speeded up.
Report's link on ITU website: https://tracker.gen5.digital/metrics