NTRA acknowledges new mobile lines for disability challengers with 50%-discount on monthly packages by all telecom operators in Egypt's market
10 May 2021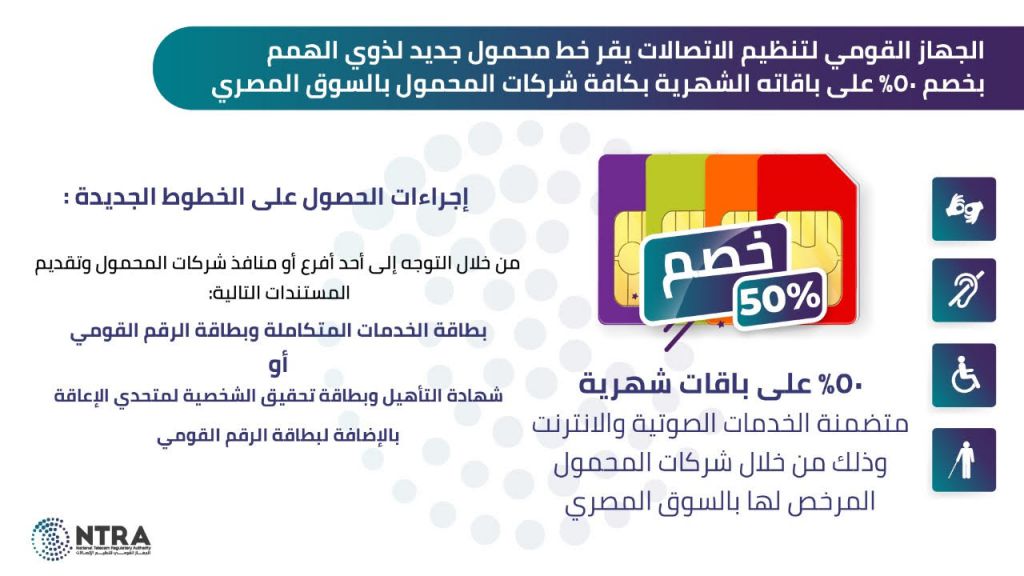 In completion to the National Telecom Regulatory Authority's (NTRA) strategy to support disability challengers, and in efforts to integrate them in the process of Digital Transformation, NTRA acknowledged providing new mobile lines for disability challengers with 50%-discount on monthly packages*. The said discount includes voice and internet services provided by licensed telecom operators working in Egypt's market. This step forms a part of NTRA's strategy to rapidly integrate disability challengers in the process of Digital Transformation as well as enable them to have a smooth access to telecom and internet services, being part and parcel of Egypt's society.
NTRA clarified that providing such new mobile lines at the operators' outlets and branches was coordinated with operators, to become available starting from Day one of Eid Al-Fitr Al-Mubarak, whereas required paperwork and documents to get the new lines were also determined. Disability challengers should head directly to any branch or outlet and submit documents verifying their identity via two main methods; first, either through submitting the Integrated Service Card, issued by the Ministry of Social Solidarity, alongside the National ID Card and secondly, through submitting the Certificate of Rehabilitation, the Identity Verification Card in addition to the National ID card for those who did not have the chance to get the Integrated Service Card issued.
Furthermore, NTRA instructed the telecom operators working in Egypt's market to facilitate the procedures of having access to telecom services for disability challengers in general, being extremely necessary, including the procedures of getting the new lines. NTRA also pointed out that the gate was opened for all operators to create, innovate and encourage competitiveness for any initiatives that would serve disability challengers and fulfill their needs, as well as offer all proper services they require to be integrated in society and to enjoy welfare.
*To know the details of packages for which the discount is acknowledged, kindly refer to each operator.