NTRA launches a service to receive and resolve complaints in sign language for telecom users of disability challengers
14 June 2021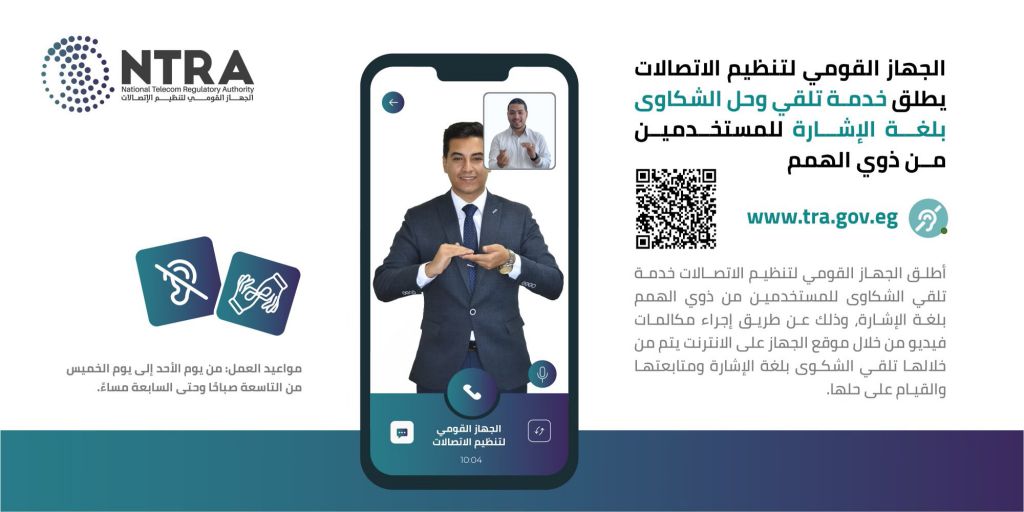 In completion to the National Telecom Regulatory Authority's strategy to uphold and integrate users of disability challengers in the process of digital transformation, and in reinforcement to their rights of having access to all telecom services in Egypt's market, NTRA launched a service for receiving and resolving the complaints of disability challengers in sign language. The said service is provided in sign language via video calls. It is also available on NTRA's website https://tra.gov.eg, through which any complaint would be received, followed up and worked out. In fact, this step aims to facilitate the process of service-availing for users of disability challengers and to raise their levels of satisfaction with the services provided. Moreover, this step would guarantee smooth access to telecom and internet services for disability challengers, being part and parcel of Egypt's society.
NTRA provides this service for receiving the escalated complaints of disability challengers, unresolved with telecom operators. The service is also available for users who are not able to properly communicate with their service providers. To this end, NTRA instructed the telecom operators working in Egypt's market to urgently make the service of complaint-receiving for disability challengers available in the nearest future and to make their points of sale as well as outlets well-equipped to properly receive this segment of users and facilitate their transactions. Such procedures are adopted in the frame of the empathy given by the Government to integrate and enable the citizens from the segment of disability challengers in Egypt's society. Furthermore, these procedures are representing NTRA's role to ensure that all segments of users are having proper access to telecom services. The said procedures also indicate NTRA's keenness on reinforcing communication approaches with all segments of society.
Complaint center for deaf and those with hearing impairments is open from Sunday to Thursday, from 9.00 A.M. to 7.00 P.M.
It is worth noting that such an initiative forms a part of the series of procedures that have been recently adopted by NTRA enabling disability challengers to have smooth access to telecom services, and integrating them in the process of digital transformation. The most prominent procedures of these were providing mobile apps – free of charge- as well as new mobile lines with a 50%-discount on monthly packages, acknowledged by all telecom operators. Furthermore, NTRA also made sure the branches and outlets of operators had been properly prepared to ensure providing services smoothly to disability challengers, at an equal level with other segments of users.