Postage stamp, free units as NTRA celebrates silver jubilee
11 April 2023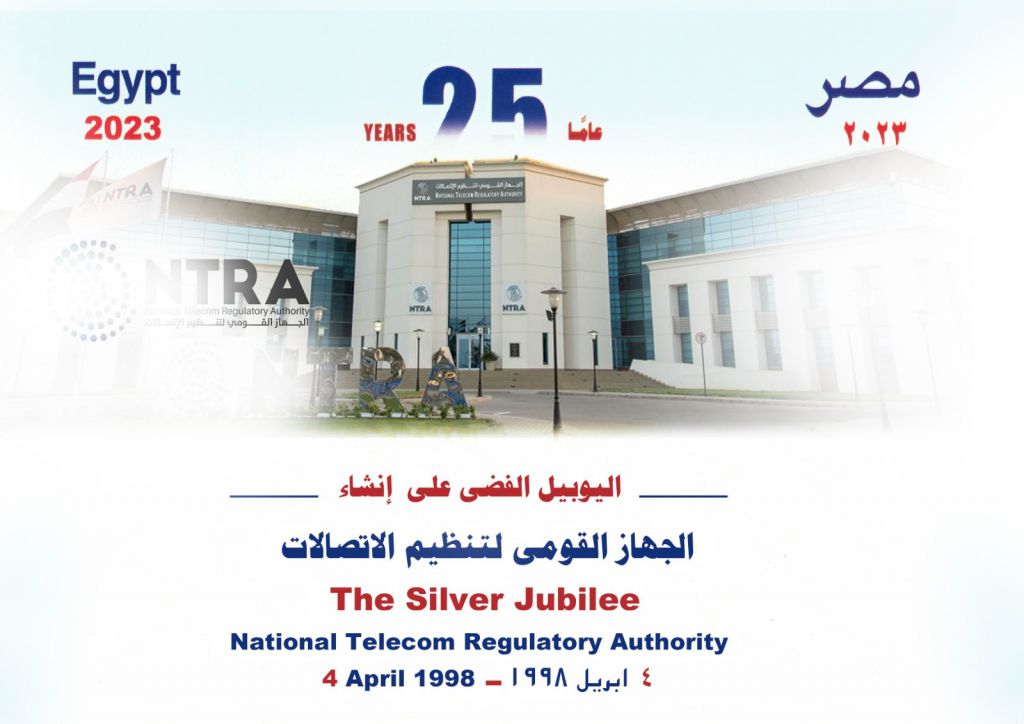 Founded 25 years ago, April this year marks the National Telecommunications Regulatory Authority of Egypt's (NTRA) silver jubilee. In celebration of this occasion, a postage stamp will be issued for NTRA, and a free unified code #5*155* will be also activated where free gifts would be provided to users by operators, starting from tomorrow and for 48 hours. It's worth noting that NTRA was founded in 1998 as Telecommunication Regulatory Authority (TRA) to manage and regulate telecom services. As of 2003 and with the introduction of many mobile and fixed internet operators into Egypt's market, Telecommunication Law No.10 of 2003 was enacted by virtue of which TRA was changed to NTRA. NTRA currently takes charge of managing and regulating telecom market, in addition to granting the required permits and licenses to operators and telecom service providers. According to Law No.10 of 2003, NTRA also undertakes market control to ensure fair that competition practices are applied, high-quality of services is maintained and user-rights are protected.
It's worth mentioning that NTRA obtained the ISO 9001-Certification of Organizational Quality Management System in regulating telecom services in Egypt's market, granted by JAS-ANZ one of the largest accreditation bodies. This step came in line with NTRA's policy to apply the international standards of organizational management for telecom service-governance, to be adopted by licensed operators working in Egypt.
Over 25 years, NTRA has launched 4 mobile generations in Egypt's market and contributed to increasing the state's revenue by polarizing major global corporations to invest in Egypt's telecom market. In this regard, NTRA issued 86 licenses for local as well as international wireless and satellite telecom operators, internet and data companies, landline service providers and infrastructure-lease companies. Furthermore, NTRA, since founded, has approved 34 thousand types of telecom devices including mobile sets, routers, etc…
NTRA further assumed an effective role in providing mobile coverage through multi projects, with a cost of EGP 3 billion, financed by Universal Service Fund. These projects aimed to provide mobile coverage for 55 major roads as well as 75 distant and deprived areas. In addition, NTRA's role included providing coverage for 622 rural areas enlisted in the forefront of the National Project for Rural Development "Haya Karima." It's worth noting that Universal Service Fund takes charge of financing the national projects for telecommunications and information as well as necessary infrastructure projects to provide basic telecom services.
On the other hand, NTRA developed a user-protection strategy and took a lot of measures to empower users and give them the full freedom to choose operators. Moreover, NTRA issued a list of telecom-user rights during service provision stages; namely, subscription, consumption and billing so as to create a user-awareness of rights.
Furthermore, NTRA devised its strategy to protect user rights via 3 main axes; the first axis is reinforcing communication channels with telecom users, and providing easy as well as numerous channels to raise complaints regarding services. To this end, NTRA complaint center can be used to escalate complaints against telecom operators if no solution is reached out with operator. It's worth mentioning that NTRA complaint center was improved and its capacity was increased to receive complaints. Complaint channels were also improved as NTRA can now receive complaints via 155, website, My NTRA interactive app, WhatsApp and NTRA pages on social medial platforms. Meanwhile, the second axis entails giving users the freedom to subscribe to or unsubscribe from services. NTRA also updated Mobile Number Portability (MNP) service through which users can shift mobile operators and keep their number unchanged. In fact, NTRA aimed by this measure to facilitate MNP process for users and reduce the time taken to shift operators, to take place within 24 hours at maximum. NTRA also updated the mechanisms to shift fixed internet operators to take place within 3 days without any extra cost incurred by users. A free-of-charge unified code #155* was also launched to inquire about or cancel Value Added Services (VAS) including the entertainment services provided by mobile operators, for a daily or monthly subscription, such as, promotional contests, news and sport services, or online games and many others. As for the third axis, NTRA worked on integrating all segments into the society and paving the way for an easy access to services. NTRA launched many initiatives to support People of Determination throughout service stages, including a specific call center to receive and resolve People of Determination's complaints via video conference technology, a 50%-discount on call and data packages as well as obliging telecom operators to develop equipped facilities at their branches and outlets to make it easier for People of Determination to access and move inside telecom branches. Furthermore, a variety of initiatives was launched by NTRA to uphold the Elderly such as, making home internet and landline contracts accessible from home for users whose age is above 60 years, without any extra fees incurred and without any need to personally visit the operator branches. The Elderly were assigned a unified code, ,#1234* to have a free-of-charge access to customer service, where an SMS is sent to this valued segment of users, after the previous code is dialed, entailing that they will be re-contacted within 15 minutes only. This measure was actually taken to provide and ensure an easy access to services by the Elderly.