NTRA releases online app usage index within single day in Ramadan 2022
11 April 2022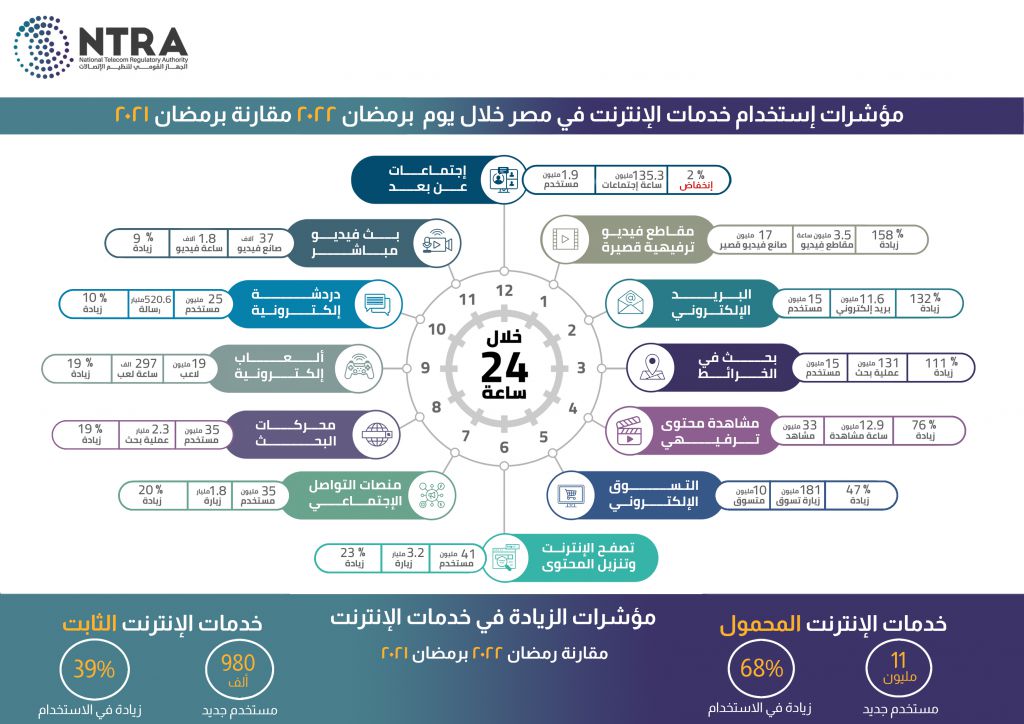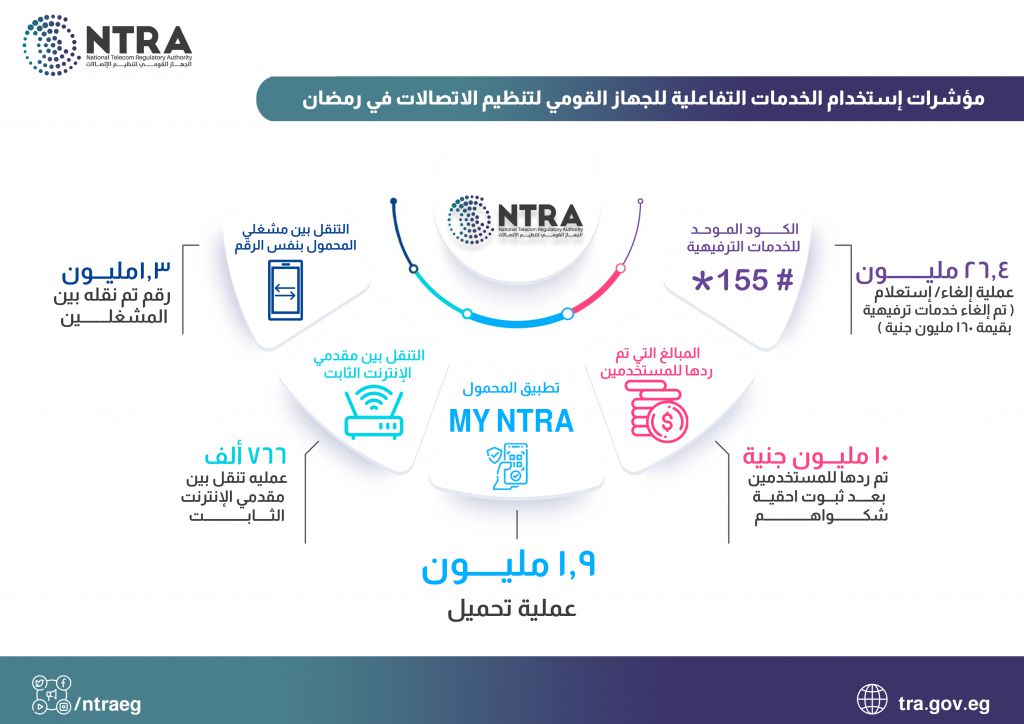 The National Telecommunications Regulatory Authority of Egypt (NTRA) has recently released the usage index of online apps within 24 hours in Ramadan 2022. Compared to the same period in Ramadan 2021, mobile internet services were increasingly used by 68% in line with the rise of mobile internet users to 11 million. Meanwhile, services of fixed internet recorded an increase by 39% in conjunction with the rising number of fixed internet users that reached 980 thousand.
Usage of online apps within a single day in Ramadan 2022 differed to Ramadan 2021 as follow:
Short entertainment videos: These are short entertaining music audios/ videos uploaded and shared by users via apps like (Tik Tok, Likee, etc.…). Number of short video makers reached 17 million, whereas the total number of hours recorded 3.5 million/ day in total, by an increasing rate of usage of about 158% in comparison to past Ramadan in 2021.
E-mail: Number of users sending or receiving online mails, via Google Mail, Yahoo Mail, etc.…, reached 15 million with 11.6 million e-mails sent daily, and by an increase of about 132% in comparison to Ramadan 2021.
Map search: Number of users who searched for locations and directions via Google Maps, Here We Go, and Waze, reached 15 million. Meanwhile, the number of location searches recorded 131 million per day and rose by 111% in comparison to Ramadan 2021.
Watching entertainment content: Watching movies and TV series via specialized online streaming apps and platforms, such as Netflix, Shahid, and Watch It, attracted 33 million viewers with viewing hours that reached 12.9/day. Usage rate of this service increased by 76% in comparison to Ramadan 2021.
Online shopping: Online shoppers of products or services from the diverse shopping apps and websites, like Amazon, Jumia, etc.…) reached 10 million in number, with 181 million visits daily. Usage rate of such a service rose by about 47% in comparison to Ramadan 2021.
Internet browsing and content downloading: Users who browsed different websites containing news, educational or other content, and viewed or downloaded content as well as different files, as well as upgraded any software, via browsing apps such as Internet Explorer, Google Chrome, etc.…, reached 41 million in number. Meanwhile, the number of visits achieved 3.2 billion/ day by an increasing rate estimated by 23% in comparison to Ramadan 2021.
Social media platforms: These are apps and websites enabling users to post and share any content, whether text, audio, video, or data, with other users, such as Facebook, Twitter etc… Users of this service reached 35 million in number with 1.8 billion visits/ day, by an increasing rate of about 20% when compared to Ramadan of 2021.
Search engines: Online searching via different search apps and websites such as; Ask, Bing, and Google, was utilized by 35 million users. Meanwhile, the number of search operations recorded 2.3 billion/day, by an increase of about 19% in comparison to Ramadan 2021.
Online gaming: Number of players who practiced the online video games, like PlayStation and Xbox, reached 19 million. Meanwhile, the number of playing hours reached 297 thousand/ day, by an increasing rate of about 19% in comparison to Ramadan of 2021.
Online chatting: Users who sent and received text, voice, or video messages via specialized apps such as WhatsApp, Telegram, Facebook Messenger, etc…. reached 25 million in number, whereas the number of instant messages recorded 520.6 billion/ day. In fact, usage rate of this services increased by about 10% in comparison to Ramadan 2021.
Live videos: Number of users who created live videos to be shared with other users on social media websites and platforms like Facebook, Twitter, etc… reached 37 thousand. Meanwhile, live streaming hours recorded 1800 in number, by a rising rate of usage estimated by 9% compared to Ramadan 2021.
Remote meetings: These are the study, official, or business meetings held online via different apps such as; Hangout, Microsoft Teams and Zoom. Number of users who utilized this service reached 1.9 million achieving 135.3 million meeting hours/ day. Usage rate decreased by about 2% in comparison to Ramadan 2021.
Usage index of NTRA interactive services in Ramadan:
My NTRA App records 1.9 million downloads:
My NTRA interactive app has been downloaded for 1.9 million times, from App Store and Google Play, since it was launched at the end of the past year.
In fact, users can recognize the number and count of mobile lines registered with their name across the 4 telecom networks via My NTRA, without heading to the operator outlets. Furthermore, users can also explore the rankings of operators, with respect to voice and data services, to figure out the best operator at areas determined by users on the interactive app. Also, users can know the location and addresses of the mobile operators' official outlets in Egypt's market among many other interactive services.
Free-of-charge unified USSD code #155* is used for 26.4 times
Free-of-charge unified USSD code #155* was used for 26.4 times to inquire about/ cancel entertainment services. In fact, entertainment services that worth about EGP 160 million were cancelled using such a code.
NTRA had previously launched the free-of-charge unified USSD code #155* to allow users to inquire about or cancel value added services including the entertainment services available in return for a daily or monthly subscription such as; promotional contests, news and sport services, or online games. This measure was actually taken after many complaints had been raised by users, with respect to this kind of services, which also entail customer subscription to entertainment services without his/her knowledge.
766 thousand fixed internet users shift provider:
NTRA updated the mechanisms for shifting fixed internet service providers to take place within 3 days without any extra fees incurred by users. To this end, NTRA obliged fixed internet service providers to carry out the shifting process, including service cancellation by the old operator and service activation by the new one, within a period of time not exceeding 72 hours. This actually resulted in 766 thousand shifting operations carried out across fixed internet service providers.
Mobile Number Portability (MNP): 1.3 million operations
Number of MNP operations across mobile operators in Egypt's market reached 1.3 million. NTRA boosted MNP service, through which users can shift operators while keeping their number, by adding a new array of regulations in accordance with the standards adopted worldwide to ease up procedures for citizens and reduce the time taken to shift operators to 24 hours at maximum.
EGP 10 million are refunded to users:
A total sum of EGP 10 million was refunded to telecom users after their eligibility had been proven based on the complaints raised to NTRA via the different channels; call center (155), WhatsApp numbers, My NTRA app, online complaint platform, and e-mail. Most important complaints in this regard was those of billing problems, customer subscription to entertainment services without his/her knowledge, in addition to e-wallet issues.