Rights of telecom users at operators' branches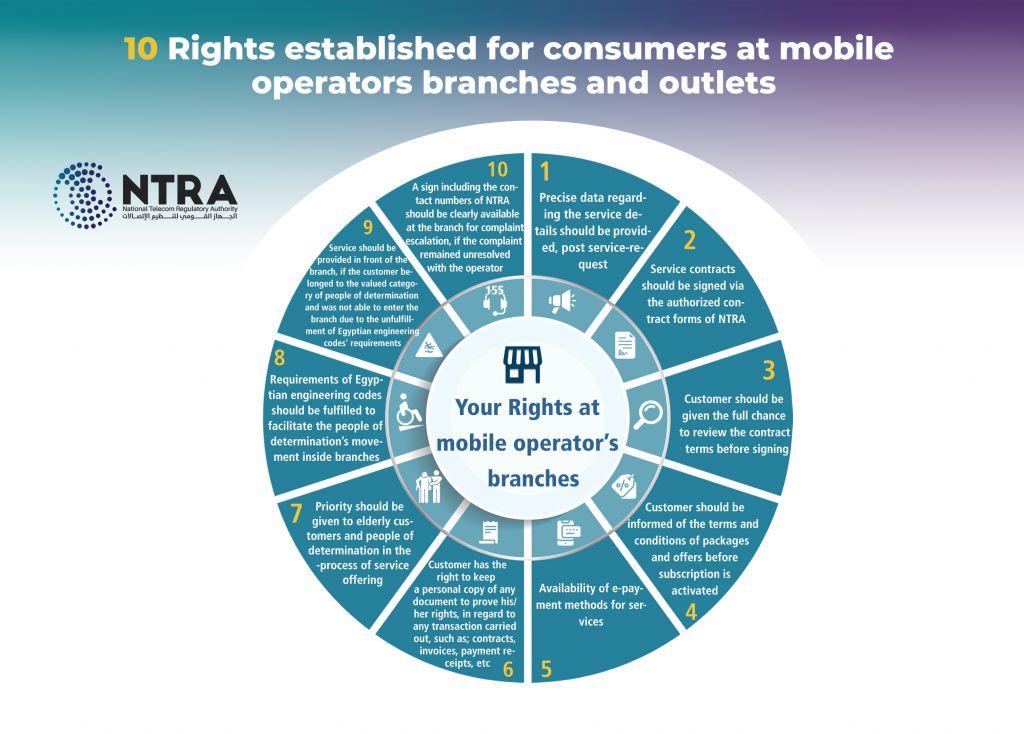 In efforts to ensure that mobile users at operator's branches are receiving high-end services that would guarantee their rights as well as fulfill their different needs, the National Telecom Regulatory Authority (NTRA) obligated mobile operators to acknowledge 10 major customer-rights at their branches and outlets.
Such rights were established mainly to:
Foster competition among operators and improve customer service.
Reinforce customer satisfaction with services.
Unify service standards at telecom operators' branches.
These rights are:
Precise data regarding the service details should be provided, post service-request.
Service contracts should be signed via the authorized contract forms of NTRA.
Customer should be given the full chance to review the contract terms before signing.
Customer should be informed of the terms and conditions of packages and offers before subscription is activated.
Availability of e-payment methods for services.
Customer has the right to keep a personal copy of any document to prove his/ her rights, in regard to any transaction carried out, such as; contracts, invoices, payment receipts, etc.
Priority should be given to elderly customers and people of determination in the process of service-offering.
Requirements of Egyptian engineering codes should be fulfilled to facilitate the people of determination's movement inside branches.
Service should be provided in front of the branch, if the customer belonged to the valued category of people of determination and was not able to enter the branch due to the unfulfillment of Egyptian engineering codes' requirements.
A sign including the contact numbers of NTRA should be clearly available at the branch for complaint escalation, if the complaint remained unresolved with the operator.